Press Releases
Frances Ng (Tel: 2128 6739)
20 June 2002
Hutchison Telecom wins the "Best Asian CDMA Operator"
in Telecom Asia Readers' Choice Awards 2002
Hutchison Telecom has won the "Best Asian CDMA Operator" title presented by Telecom Asia Readers' Choice Awards 2002. It is the second time since 2001 Hutchison Telecom awarded the distinction. This further confirms Hutchison Telecom's leadership position in the development of CDMA mobile communications.
"We are very honoured to receive the prestigious 'Best Asian CDMA Operator' award in two consecutive years," said Agnes Nardi, Managing Director of Hutchison Telecom. "This award represents our dedication and commitment to the growth of CDMA mobile services in Hong Kong, and a driving force for us to move forward. We shall continue to provide more innovative services with most advanced mobile technology and help accelerating the local mobile industry leaping forward to the 3G mobile multimedia communication era."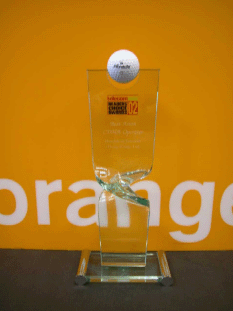 Asia-wide recognition for excellence in telecoms
The Telecom Asia Readers' Choice Awards, organized by Telecom Asia, are the only Asia-wide recognition of excellence in telecoms. The winners are chosen by readers of Telecom Asia, Wireless Asia, Telecom China and telecomasia.net who, as telecommunications experts, are in a strong position to professionally judge those who are the best in category. This year, Hutchison Telecom was awarded the "Best Asian CDMA Operator" title out of the 14 awards presented. The award honours Hutchison Telecom's achievements in the development of CDMA services as well as its long-term contribution to the development of CDMA mobile communications.
Hutchison Telecom achieved several "firsts" in CDMA development
Hutchison Telecom has pioneered the CDMA development with several "firsts". The Company is the world's first operator to launch a commercial CDMA network and the first to provide CDMA automatic roaming services to the US and Canada. In 1999, the Company pioneered the first automatic roaming services between Hong Kong, Japan & Korea. Hutchison Telecom now offers CDMA Automatic Roaming Services in over 600 cities in the United States, Canada, China, Japan, Korea, Australia and New Zealand.
Devoted to high-speed data communications, Hutchison Telecom pioneered Hong Kong's first 2.5G packet data mobile service in August 2000 with CDMA IS95B technology, offering mobile users the territory's fastest data transmission speeds of up to 64 kbps. The QUICKWING 64kbps wireless modem and the FREEWING wireless modem card exclusively offered by Hutchison Telecom allow users to get access to the Internet wherever they are.
In November 2000, Hutchison Telecom launched the world's first WAP platform character download. In April 2001, the Company launched the Sanyo C401SA, Hong Kong's first and only colour display WAP phone with a new colour WAP portal that offers a host of exciting applications such as the option to download colour wallpaper, colour screensavers and colour animated melodies, enabling users to have fun of mobile communication.
- Ends -