Press Releases

| | |
| --- | --- |
| For Immediate Release | July 11, 2002 |
Hutchison Global Crossing launches new prepaid phone card with
Super low China IDD rates and an unique "Speedy Connect" feature
Hutchison Global Crossing (HGC) today announced the launch of a brand new IDD Prepaid Phone Card - the "Here, There Card". Other than value "top up" feature, the new prepaid phone card also has the unique "Speedy Connect" feature that simplifies dialing procedure. This market first feature makes it ever so easy and efficient for customers to keep in touch with friends and relatives and business associates abroad.
The "Here, There Card" is available at HK$50, HK$100 and HK$200 and can be used to call more than 200 cities in 100 countries. Customers who use the card to call China also enjoy the lowest IDD rate in Hong Kong at $0.39 per minute(1). For calls made to the US, Canada, Taiwan and Singapore, the charge will only be HK$0.99 per minute(2), charging by 6-second increments.
Calling overseas with a calling card often involves in putting a 10-digit or more calling card number before a customer could actually dial the overseas telephone number. To make things easy for customers, HGC introduced the first of its kind "Speedy Connect" feature in its "Here, There Card". With this new feature, customers can register the local mobile or residential phone number they would be using most often to call overseas. After registration, whenever the customers call HGC's service system with the registered phone, they can then make calls without having to punch in the calling card number and enjoy much quicker connection.
Furthermore, customers have only to purchase an Added Value Coupon which is available at HK$50, HK$100 and HK$200 to top up the value of their "Here, There Card" anytime. The feature enables a customer to use the same calling card number for as long as he wishes. Starting from today to July 31, customers who top up the value of their one single "Here, There Card" to up to HK$250 will receive a cash rebate of HK$20. The rebate will be automatically transferred onto their prepaid cards saving them from the hassle of having to register for it and collect it in person.
HGC understands that customers who have to make frequent business trips abroad are often concerned about the build up of IDD expenses. It has thus introduced the "International Call Forward" Prepaid Phone Card. Besides all the other convenient features and the super low call charges, customers using the card can have calls to their mobile phone or fixed line numbers in Hong Kong forwarded to their overseas mobile or fixed line numbers. This will allow them to receive calls from friends and relatives or business associates to those Hong Kong numbers even when they are abroad and the callers will hear the "Hong Kong Ringtone". HGC's International Call Forward Prepaid Phone Card also charges less than conventional roaming services. It charges only HK$0.69 per minute to forward calls to China, both mobile and fixed line, allowing customers to save on international call budget. Unlike conventional call forwarding services which required customers to register before access, customers using the new "International Call Forward" Prepaid Phone Card can use the service immediately after they purchased the card and no monthly fee will be charged.
HGC's "Here, There Card" series also come in exciting new designs. Highlighting the theme of boundless connection, the prepaid phone card without call forwarding feature shows the Polar Bear in the Arctic and scenic New Zealand landscape near the southern end of the earth. On International Call Forward Prepaid Phone Cards are the Cheung Kong Centre in Hong Kong and the Oriental Pearl Tower in Shanghai. Capturing the essence of the business world, it makes the choice calling card for frequent business travelers.
The "Here, There Cards" and Added Value Coupons are available at Park'N shop and Watson's outlets. For enquiry, customers can call HGC's 24-hour customer service hotline 1220.

(1) Applicable between 10 p.m. and 12 midnight, Monday to Sunday
(2) Applicable all day Sunday

Different values of Here, There Cards, International Call Forward Prepaid Phone Cards and Added Value Coupons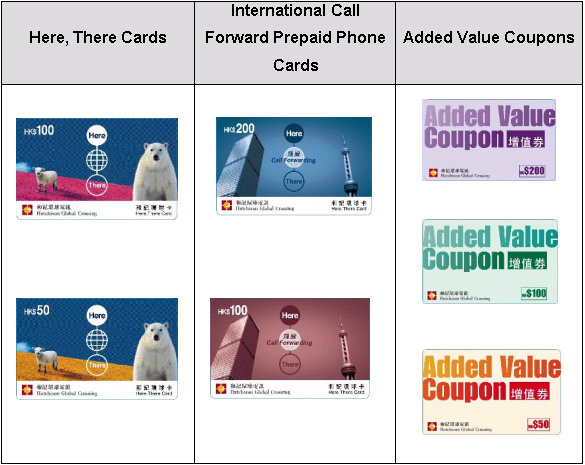 - End -

Media Enquiry:
Hutchison Global Crossing
Sally Tsang
Tel.: 2128 6708
Fax: 2187 2055
Email: [email protected]