Press Releases

Priceline® and Yahoo! in Asia join forces
New co-branded transaction sites to bring affordable travel
to a wider audience
HONG KONG, July 23 - The Asian offices of leading global Internet company Yahoo! and Priceline, the unique Name Your Own PriceTM travel provider, today announced a regional agreement to market a new travel booking service.
The two companies will launch co-branded Name Your Own Price travel sites in Asia that will allow Yahoo! users to save up to 20%-30% off typical market rates for airline tickets and hotel rooms all around the world.
The agreement covers Hong Kong, Singapore and other Asian markets to be announced when appropriate.
As a first step, a Priceline Smart Travel Club has been created for users of Yahoo! Hong Kong. Users will be able to log on to Yahoo! Hong Kong Travel, research and plan their holidays, then purchase air tickets and hotel rooms directly through a special Priceline Name Your Own Price travel booking service available on the site.
In addition, the Priceline Smart Travel Club features valuable travel tips from successful Priceline customers, special deals for Yahoo! Hong Kong users, and the latest travel news and information. Priceline's air and hotel destinations include the Asia-Pacific region, Canada, Europe, the United States, the Caribbean and Mexico. The company partners with 25 Asian and international airlines, plus more than 8,000 hotels.
"This is exactly what Asia's travellers have always wanted - an integrated site with comprehensive travel information plus the significant savings that Priceline's Name Your Own Price service can provide," said Yahoo! Hong Kong General Manager Alfred Tsoi. "We believe Priceline will be a great addition to our Hong Kong travel offerings, presenting our Hong Kong customers with the opportunity to get the best deals from the travel industry."
Added Hutchison-Priceline CEO Alfredo Gangotena: "Yahoo! is an Internet giant in Asia and Priceline, which is already one of the most popular online travel brands in the U.S., has proven to be a favourite with Asian bargain-seekers since its launch in Hong Kong and Singapore this year. This agreement underlines the confidence of both companies in the extraordinary growth of e-commerce in the region."
According to leading global Internet research house NetValue, visitors to online travel and tourism sites sky-rocketed by 322% in Hong Kong, year-on-year, in the first quarter of 2002. Said Tony Tan, Sales Director for NetValue in Hong Kong: "The recently launched Priceline is a good example of an innovative portal that offers a refreshing 'matchmaker' approach to help travellers plan for their holidays."
In Hong Kong, priceline.com.hk was rated the leading travel/tourism site by number of unique visitors (623,000) in May - the latest NetValue figures available.
In Singapore, visitors to travel sites from their home computers rose 46% year-on-year by last December, NetValue said. In June this year, priceline.com.sg was the leader in transactional travel/tourism sites by unique visitors (410,000)
E-Travel attracted the third-biggest online spending in the Asia-Pacific region last year, with total online travel sales forecast to reach US$30.9 billion in the region by 2005 - a cumulative growth rate of 138% - according to the International Data Corporation. In the U.S., online travel is already the No.1 Internet business, with annual sales for this year estimated to reach US$31 billion.
B2C Online Travel Spending & B2C Spending, Asia-Pacific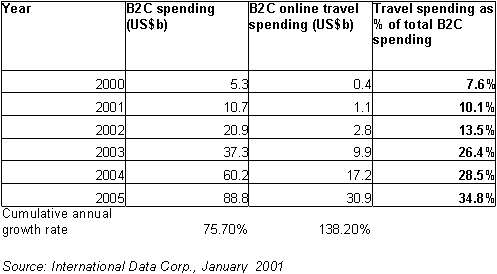 Said Mr Gangotena: "Priceline appeals to smart travellers in search of a great deal and Yahoo! has great reach throughout the Asian region through its community sites. In the end, Asian travellers will benefit the most because they'll save both time and money."
Both companies will support the new services with a range of top-line promotional deals and marketing initiatives. Both companies intend to launch the Singapore club online later this year subject to obtaining all necessary licences and approvals.
Priceline is a licensed travel agent in Hong Kong and Singapore, and has been accredited by the International Air Transport Association. It is the first online travel service to be awarded the TrustSG Seal in Singapore, which symbolises secure and trustworthy e-business practices.
About Hutchison-Priceline
Hutchison-Priceline (Travel) Ltd was formed with investments from Hutchison Whampoa Ltd (65%) in Hong Kong and priceline.com Inc (35%) in the United States. Hutchison brings to the alliance its unparalleled brand, huge customer pool, vast management experience and deep knowledge of Asia. Priceline.com also boasts an extremely strong brand. It adds unique technology to the mix, plus outstanding e-commerce experience.
Hutchison-Priceline (Travel) Ltd operates a unique Name Your Own PriceTM Internet travel service for airline tickets and hotel rooms. It offers great savings for flexible travellers. For airline tickets customers choose their destination, dates of travel and desired price, then agree to fly on a major airline at the times when the airline has empty seats. For hotel rooms customers specify their dates, the star rating, the area of a city and, of course, the price. Priceline then picks an international-brand or boutique hotel.
Hutchison-Priceline (Travel) Ltd works with one of the travel industry's largest collections of travel suppliers. These include 25 Asian and international airlines and more than 8,000 hotel properties around the world.
About Yahoo! Hong Kong
Yahoo! Hong Kong is part of Yahoo! Inc's global network. Yahoo! Inc. is a leading provider of comprehensive online products and services to customers and businesses worldwide. Yahoo! is the No. 1 internet brand globally and the most trafficked Internet destination worldwide. Headquartered in Sunnyvale, Calif., Yahoo!'s global network includes 25 world properties and is available in 13 languages.


For further information, please contact:
Ogilvy Public Relations Worldwide
Nor Badron/Susanna Muk
Tel: +852-2884-8570 / 2884-8584
Fax: +852-2560-9971
E-Mail: [email protected] / [email protected]
- ENDS -