Press Releases
FOR IMMEDIATE RELEASE
May 2, 2000
Partner reports operational results for first quarter
and releases subscriber growth figures
Rosh Ha'ayin, Israel - May 2, 2000 - Partner Communications Company Ltd. (NASDAQ: PTNR), today issued a report on its operational results for the first quarter ended March 31, 2000. Launching operations January 1, 1999, Partner Communications racked up subscriber growth of 395 percent, the count rising from 86,000 at the end of the first quarter ended March 31, 1999, to 426,000 at quarter ended March 31, 2000.
For the same three-months periods, Partner's market share increased 250.0 percent to an estimate of 14.0 percent from 4.0 percent. Partner also reported that its churn rate dropped from 4.3 percent in the first quarter of 1999 to 2.0 percent for the current first quarter.
Partner's Chief Executive Officer Amikam Cohen noted that the Company's customer base includes over 25.0 percent of business customers. As business customers typically use more air-time and advanced data services, he emphasized that this is a key market segment for the Company.
Network coverage increased from 93.0 percent of the Israeli population at the end of the first quarter of last year, to 97.0 percent at the end of first quarter 2000, while the number of operational base stations grew from 577 to 858.
Partner's employment roster grew from 1,264 full-time equivalent to 1,543, reflecting the rapidly growing subscriber base and the Company's emphasis on customer service. The cost of acquiring new subscribers rose marginally from NIS 1,310 in first quarter 1999 to NIS 1,384.
In terms of average monthly usage, the Company saw the expected change from its first months of operations with a decline from 505 minutes per subscriber to 411 minutes. Average monthly revenue dropped from NIS 451 to NIS 318. Both average monthly revenue levels remain significantly above industry averages within Israel and internationally.
Mr. Cohen attributed the lower than expected monthly usage to the decline in incoming calls and the decreased average subscriber revenues primarily to the launch since December of bundled air-time promotions. These bundled air-time promotions are expected to result in a decline in revenues per subscriber principally during the first half of 2000.
"Looking to the future," Mr. Cohen added, "our primary objectives are to continue growing our quality subscriber base and deepen our penetration, by offering the best service at competitive rates. We are confident that our existing subscriber base will continue to grow and benefit from the unique cellular services offered on the orangeTM network."
____________________
Partner Communications will hold a conference call for investment professionals on May 2nd, 2000, at 17:00 Israel local time. This conference call will be broadcasted live over the Internet and can be accessed by all interested parties through our investors' web site at http://investors.partner.co.il. To listen to the broadcast, please go to the web site at least 15 minutes prior to the start of the call to register, download, and install any necessary audio software. For those who are not available to listen to the live broadcast, a replay will be available shortly after the call through the Investor Broadcast Network's Vcall web site at www.vcall.com.
Partner Communications Company Ltd. is the sole provider of GSM mobile telecommunications in Israel. Operating under the international Orange brand, Partner offers a wide range of quality services to over 420,000 Israeli subscribers. Partner's shares are quoted as PTNR on the NASDAQ, and as PCCD on the London Stock Exchange. (For further information: http://investors.partner.co.il)
The statements contained in this release which are not historical facts are forward-looking statements with respect to plans, projections or future performance of the Company, the occurrence of which involves certain risks and uncertainties. For a discussion of important factors which could cause actual results to differ materially from such forward-looking statements, refer to Partner's Form 20-F (Commission file No. 1-14968) which has been filed with the U.S. Securities and Exchange Commission on April 20, 2000.
Kevin Russell
CFO
Tel: +972-3-9054951
Fax: +972-3-9054161
E-mail: kevin.russell@orange.co.il
Dr. Dan Eldar
V.P. Carrier, Investor and International Relations
Tel: +972-3-9054151
Fax: +972-3-9054161
E-mail: dan.eldar@orange.co.il
---
PARTNER COMMUNICATIONS COMPANY LTD.
(An Israeli Corporation)
SUMMARY OPERATING DATA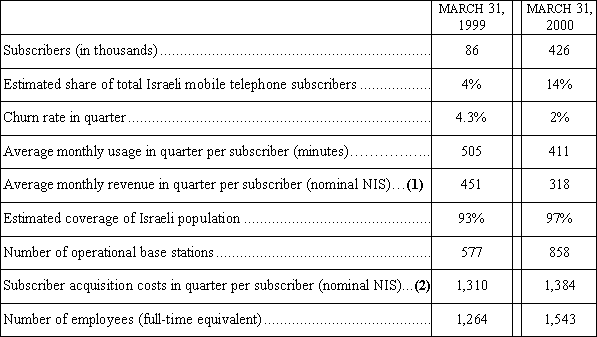 (1) We have presented the amount in nominal NIS. The equivalent adjusted NIS amounts are 462 as of March 31, 1999, and 317 as of March 31, 2000.
(2) We have presented the amount in nominal NIS. The equivalent adjusted NIS amounts are 1,334 as of March 31, 1999, and 1,380 as of March 31, 2000.