Press Releases

For photo, please click here.
FOR IMMEDIATE RELEASE
Montreal, September 12, 2013
Building bridges across the Pacific
A C$6.6 million gift from the Li Ka Shing (Canada) Foundation creates new student and
faculty exchanges between McGill and Shantou University in China
Last year, more than 800 Chinese students crossed the Pacific to attend McGill, making China the third largest source of international students for the University, behind only the United States and France. And that number is growing every year; in fact, it has more than doubled since 2007.
Now, thanks to a generous gift of C$6.635 million from the Li Ka Shing (Canada) Foundation, McGill's ties to China are about to grow even stronger, through the creation of three important new initiatives promoting scholarship and exchange between McGill and Shantou University in the Chinese province of Guangdong: the Li Ka Shing Initiative for Innovation in Legal Education, the Li Ka Shing Liberal Arts Exchange Initiative and the Li Ka Shing Program in International Business. Housed in the faculties of Law, Arts and the Desautels Faculty of Management, the three initiatives will promote student and faculty exchanges between McGill and one of China's emerging educational powerhouses.
"China is one of McGill's most important regions on the international stage, and forging links with high-calibre Chinese institutions is one of our highest priorities," said Professor Suzanne Fortier, McGill's Principal and Vice-Chancellor. "We are extremely grateful to the Li Ka Shing (Canada) Foundation for their vision and generosity in supporting these wonderful new exchange programs with Shantou University, which will create new avenues for scholarly and research collaboration between professors and students at our two institutions, expose a new generation of Chinese students to Quebec and Canadian culture and academic perspectives, and provide McGill's students and faculty members with invaluable opportunities to experience first-hand the intellectual, cultural and social milieu of modern China."
"Education is the cornerstone of tradition and progress, of dignity and wisdom, and is one of our key tools to reshape destiny. The dreams of our people can be realised through wise and visionary education reforms. Shantou University is a platform to instigate reforms in the higher education sector in China, and we have attained many milestone achievements in the past decade,"said Mr Li Ka-shing. "Shantou collaborates in a number of fields with first rate universities all around the world, including several in Canada, and it is a great pleasure for me to see this new initiative with McGill come to fruition. This multi-disciplinary collaboration will offer a great many students a unique opportunity to broaden their horizons and perspectives through learning experiences that I believe will be truly transformational for all participants."
The most extensive of the three exchange initiatives, the Li Ka Shing Initiative for Innovation in Legal Education, builds upon the highly successful McGill/Shantou Summer Law Program, which was established in 2010 through a previous gift from the Li Ka Shing Foundation; it enables McGill and Shantou law students to participate in intensive two-week visits to the complementary university in alternating years. The new initiative will expand upon that program, and will also support semester abroad opportunities for McGill and Shantou students; faculty exchange awards in both institutions; and fellowships to allow talented graduate students and junior faculty from Shantou to study at McGill. The Initiative will also provide support for a new Professor of Practice at McGill, which will bring an internationally renowned expert in comparative law and Asian legal cultures to the Faculty of Law to teach, conduct research and offer public lectures in the field.
The Li Ka Shing Liberal Arts Exchange Initiative will support students from McGill and Shantou's respective humanities and social science programs who wish to study abroad, over the summer or for an entire semester, at the partner institute. Funding will also be available for a professor from McGill's Faculty of Arts to spend two weeks at Shantou University each year to teach classes, conduct public lectures and meet researchers with shared scholarly interests. These professorships would rotate through disciplines, affording the opportunity to generate new creative collaborations and deepen intellectual ties across many areas of common interest to both institutions.
Similarly, the Li Ka Shing Program in International Business will enable students from each institution to travel abroad to take courses, either over a full semester or through an intensive summer program. It will also permit faculty members from each school to travel to the partner university to deliver lectures, present research papers and nurture research collaborations. Business students from Shantou University will also be offered opportunities to take part in the acclaimed Desautels International Summer Program, which is designed to provide undergraduate students from around the world with opportunities to gain critical North American perspectives on issues of global significance.
Across all three programs, it is estimated that up to 400 students from McGill and Shantou University will benefit from these exchanges within the next five years.

###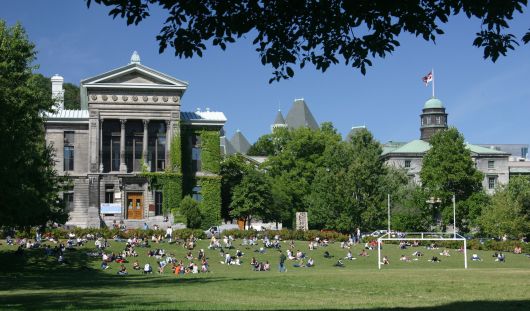 (
Download
)
Many Chinese students go to pursue their studies at McGill University in Montreal every year. The setting up of three new exchange initiatives for McGill and Shantou University, sponsored by the Li Ka Shing (Canada) Foundation, will build stronger ties between the two places.
About McGill University
Founded in Montreal, Que., in 1821, McGill is a leading Canadian post-secondary institution. It has two campuses, 11 faculties, 11 professional schools, 300 programs of study and some 39,000 students, including 9,300 graduate students. McGill attracts students from over 150 countries around the world, with more than 8,200 international students making up 21 per cent of the student body.
On the Web:
www.mcgill.ca
About Shantou University
Established in 1981 in Guangdong Province in Southeast China, Shantou University is a university co-developed by the Ministry of Education, People's Government of the Guangdong Province, and the Li Ka Shing Foundation. It is a key comprehensive university under the "Project 211" program of Guangdong Province. Shantou University has 10 Schools and Colleges, five affiliated hospitals and 21 academic departments, offering 36 undergraduate programs, 84 Master's programs and 25 PhD programs. The University hosts a student population of 9,448 undergraduate and graduate students, nurturing over 70,000 talents for different industries thus far. Shantou University is the only public university in the world that receives long-term funding from the Li Ka Shing Foundation, which has committed and donated more than HK$6 billion (about $795 million Canadian dollars) to the University to date.
On the Web:
http://www.stu.edu.cn/
About the Li Ka Shing (Canada) Foundation
The Li Ka Shing Foundation was established in 1980 by global entrepreneur and philanthropist Li Ka-shing. Mr Li considers the Foundation to be his "third son" and has pledged one-third of his assets to it. To date, the Foundation has granted over HK$13.2 billion (US$1.69 billion) in charitable donations.
The Foundation supports projects that promote social progress through expanding access to quality education and medical services and research, encouraging cultural diversity and community involvement.
The Li Ka Shing (Canada) Foundation was incorporated in Canada in 2004 in recognition of the warm welcome the country has extended to Li Ka-Shing and to his group of companies over the years. Over the years the Li Ka Shing (Canada) Foundation has, among others, supported major projects such as a Knowledge Institute at St Michael's Hospital, Toronto, an Institute of Virology at the University of Alberta, Academic Exchange Programs with the University of Manitoba, and an endowed Chair professorship at the University of Calgary
For more information, please visit:
http://www.lksf.org
Contact:
Cynthia Lee
Media Relations Office
McGill University
514-398-6754
[email protected]
http://www.mcgill.ca/newsroom/
http://twitter.com/McGillU