Press Releases

Ms Frances Ng (Tel: 2128 6739)
Public Relations Department
30 December 2002
Hutchison Telecom and Orange won Superbrands Awards
Hutchison Telecom and its prestigious brand "Orange" are awarded "The Superbrand" by Superbrands Council.
Hutchison Telecom and Orange have successfully won the awards by fulfilling the judging criteria of the award programme, which include market dominance, longevity, goodwill, customer loyalty and overall market acceptance. This international activity was started nine years ago to introduce the most famous brands in a country or market. It has already covered 17 regions including Australia, Hong Kong, Malaysia, the Netherlands, Singapore, UK and US.
Hutchison Telecom, the largest mobile operator in Hong Kong, has always set the development pace of the local mobile industry over the past 17 years. Widely recognised as the mobile leader in the local market, Hutchison Telecom is in persistent pursuit of technical and service excellence through pioneering technology, unparalleled innovation and the best services to the highest customer satisfaction. Heading towards 3G, the Company is firmly committed to be the leading mobile multimedia service provider in Hong Kong.
Orange is a market leading brand introduced in Hong Kong by Hutchison Telecom since 1998, and it is now the brand name for the Company's GSM Dualband and CDMA networks. Orange aims to provide users with quality, user-friendly products and services. The Orange brand is refreshing, bright and cheerful. It is straightforward, using simple language and no techno-jargon. The brand prides itself on being honest and transparent with clear communications that cut through market confusion. Orange continually strives to be innovative, dynamic, friendly and trustworthy.
- End -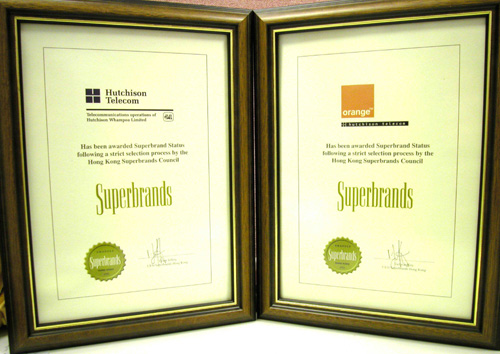 Hutchison Telecom and Orange won the Superbrands awards.