Press Releases
Press Release
Mr Li Ka-shing receives International Distinguished Entrepreneur Award
June 7, 2000 - Mr Li Ka-shing, Chairman of the Cheung Kong Group of Companies, was honoured with the Year 2000 International Distinguished Entrepreneur Award (IDEA) at a gala dinner last night in Winnipeg, Canada. Mr Li is the first Chinese who has received this award.
This award was established in 1983 by the University of Manitoba Faculty of Management, and the Associates of the Faculty of Management -- an organisation of noted business leaders. The IDEA aims to honour a business executive who has achieved outstanding entrepreneurial success, and who has made an exemplary contribution to economic life.
In announcing the award, John Fraser, chairman of Air Canada and also chairman of the Nominating Committee for the IDEA Associates, said, "We are honoured to have someone of Mr Li's worldwide stature earn and accept the International Distinguished Entrepreneur Award. His incredible success is nothing short of phenomenal and the recognition he has earned as one of the world's outstanding entrepreneurs makes him eminently deserving of the 2000 Award."
In a speech to mark the receipt of the award, Mr Li reminiscenced on his 50 years of life as a businessman, "It has not been an easy journey. My life has been filled with challenges and competition. The constant demand for one to be wise, to be far-seeing, and to be creative is certainly tiring. Yet all in all, I am glad that I can say that I am a happy man, for I have tried to serve society to the best of my ability as a human being, as a citizen and as a businessman."
For Mr Li, success in business and compassion for mankind are certainly not mutually exclusive, "It is my belief that the increasing pressures to maximise profit and efficiency should not compromise our respect for equality and our determination to minimise misery. All our progress would hardly be meaningful if we choose to sacrifice human spirit in pursuit of money and power, " he remarked.
He continued, "I do not claim to be a beacon of moral light, nor am I a guide for anyone save, maybe my own sons. The loss and helplessness I went through made me determined at an early stage that I would not value myself for what I own or what power I can wield, but to make my life worth living."
During the past years, Mr Li has contributed more than HK$3.8 billion (C$700 million) to many worthwhile causes, and in particular education and medicine. He is devoting as much time to his philanthrophic causes as his business, "I will continue to do the same and more, not out of a sense of my duty but because it is a maxim by which I choose to live my life," said Mr Li.
The IDEA winner is selected by the Nominating Committee of the Associates from a list of nominees submitted by past winners of the award. Previous honorees have included leading business figures in Canada and icons of international businesses such as: Richard Branson (The Virgin Group), Robert Goizueta (Coca-Cola Company) and Akio Morita (Sony Corporation).
[Ends]
For enquiries, please contact Mrs. Wendy Tong Barnes (Tel: 2122 2150) or Ms. Winnie Cheong (Tel: 2122 2093) of Corporate Affairs Department, Cheung Kong (Holdings) Limited.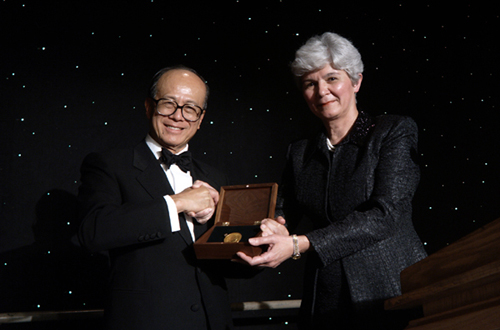 1. Mr Li Ka-shing, Chairman of the Cheung Kong Group, accepted the International Distinguished Entrepreneur Award from Dr. Emoke Szathmary, President of the University of Manitoba, June 6 in Winnipeg, Canada.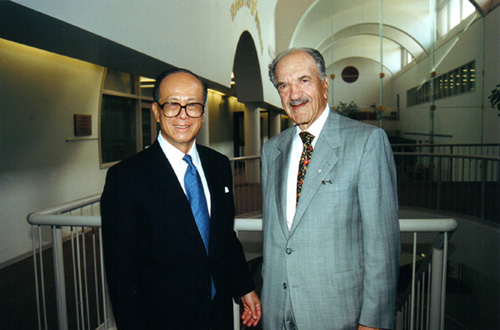 2. The picture shows the current International Distinguished Entrepreneur Award honoree Mr Li Ka-shing with the first honoree Mr Albert Cohen, who received the award in 1984.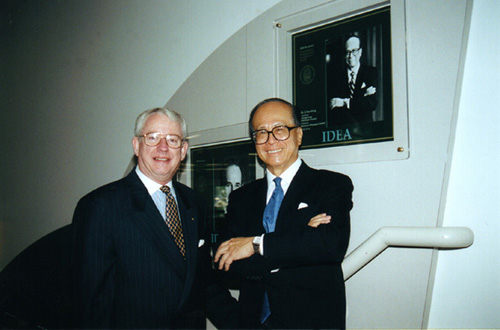 3. Mr Li Ka-shing pictured with Dr Jerry Gray, Dean, Faculty of Management, the University of Manitoba during the campus tour.