Press Releases
Hongkong Salvage & Towage - Press release
16th June, 2000
Hongkong Salvage & Towage (HKST) recently took delivery of two multipurpose 4000BHP reverse tractor tugs from Imamura Shipbuilding Company of Kure, Japan.
The newbuildings are based upon the design of earlier harbour tugs, but have been upgraded in several key areas. They have a seagoing capability and accommodation for eight men, although they are also designed to work in port with a crew of only three.
At 4000BHP, the tugs are powerful enough to meet the demands of most ports, and have sufficient range to steam almost anywhere in search of gainful employment. They are fitted with external firefighting including two fire monitors mounted on the funnel platform, and have a single drum winch on the maindeck aft.
These new additions to the HKST fleet were delivered in April and May 2000, and replace two older tugs which will be sold.
Once again, HKST selected a Niigata propulsion package of 6L26HLX main engines and ZP-31 azimuthing thrusters, with Kitagawa winches and a Kashiwa fire pump, all controlled from purpose-designed wheelhouse consoles.
The tugs have been named Peng Chau and Chek Chau. These names were previously used on two tugs which were sold to Howard Smith(UK), and now operate on the Humber.
Managing Director Chris Pooley says the company were aiming for a design which would combine the compact dimensions and high manoeuvrability of a harbour tug with the strength and endurance of a seagoing tug. "With this design", he claims, "we believe we have achieved our objectives very well".
Sea trial results were impressive, with a service speed of over 13 knots and a bollard pull of 59.3 tonnes. Even better is the economic speed of almost 11 knots at 50% MCR, on a fuel consumption of 5.2 tonnes per day. With a fuel capacity of 134 cu.m., this gives the vessels an impressive steaming range.
Although the new tugs appear fairly similar to earlier HKST harbour designs, there are a number of improvements. The wheelhouse is larger to accommodate additional communications equipment such as the Inmarsat M telephone and fax, plus an aft control console, as well as an internal companionway from the accommodation. In addition, the towing hook has been replaced by an aft winch fitted with 750 metres of 45mm wire for seagoing towage.
The new tugs will initially be deployed on Hong Kong harbour, where their 4000BHP will make them the most powerful harbour tugs in the port. HKST are the largest towage company in Hong Kong and their fleet of 21 tugs provides a total of 71,400 BHP at an average age of just six years.
HKST weathered the Asian economic crisis, and have also been successful in finding work for their tugs overseas. They currently have vessels working in Vietnam, Mexico and the Middle East, whilst their Hong Kong based seagoing tugs undertake salvage and towing jobs throughout the Far East.
HKST also operate six hatchcoverless container vessels for the Environmental Protection Department of the Hong Kong SAR government. These vessels carry containerised garbage from various reception facilities to a major landfill in the New Territories.
The company operates Hong Kong's largest floating crane, Proteus 1, which has a lifting capacity of 350 tonnes. This unique vessel is also a floating dock, which allows HKST to carry out docking work on all their harbour tugs.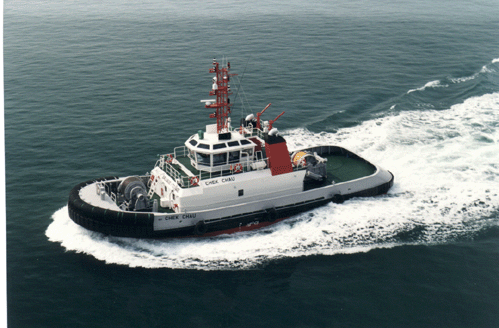 Chek Chau