Press Releases
For photos, please click here.

Hutchison Whampoa announces the global launch of the X-Series from 3

3 Group, in Partnership with Skype, Sling Media, Yahoo!, Nokia, Google, eBay,
Microsoft, Orb and Sony Ericsson, unleashes the
true power of broadband internet over the mobile
(Hong Kong, 16 November 2006) Hutchison Whampoa Limited today announced the global launch of the X-Series from 3. The X-Series from 3 marks the beginning of the internet via mobile broadband, and heralds a new way of doing business for mobile network operators. It will extend several of the core applications and uses of the broadband internet to the mobile handset, with a new pricing model. The X-Series from 3 will be supported by the leading internet companies, cutting-edge handsets from the world's leading mobile manufacturers and premium customer service.
Customers will be able to make unlimited calls from their mobile using Skype, watch their home television via their mobile using Sling, access their home PC remotely using Orb and have access to the best of internet and messaging services from Yahoo!, Windows Live Messenger and Google.
The X-Series from 3 will be priced like fixed line broadband. It will offer use of mobile internet services free at the time of use, for a flat fee. The X-Series from 3 will be available in the UK from the 1st December 2006 and in 3's other markets around the world in early 2007. Each 3 company will provide further details as they launch X-Series in their markets.
Canning Fok, Group Managing Director of Hutchison Whampoa, said:
"This is the internet as it was meant to be and what people have been waiting for. Mobile broadband is the natural next step for mobile services, extending the full power of the internet to mobile handsets. By partnering with the leaders of the internet and the leading handset makers, the X-Series from 3 will give everyone access to more of what they want, when they want it, and however much of it they want, all free when they use it."
Frank Sixt, Group Finance Director of Hutchison Whampoa, said:
"We believe that giving our customers the benefit of the favourable economics of the broadband world will lead more customers to join our network. That is the proposition the 3 Group will be putting forward in all of its markets under the X-Series. This is why we created 3, and what our network was designed to deliver. The X-Series heralds important changes in the business model for mobile media and internet. Moving away from unit charges will set mobile users free to enjoy broadband services without fear of 'bill-shock'."
The X-Series from 3
The X-Series from 3 will allow people to communicate, find information and be entertained in ways they have never been able to do before using a mobile handset.
With X-Series, the 3 Group is sharing the power of mobile broadband with its internet partners and above all, with its customers who will get more of what they want, when they want it, how they want it, and without fear of hidden charges every step of the way at the point of use.
At today's launch presentation the 3 Group announced global partnerships with major internet brands Sling Media, Orb and Google. These partnerships build on global agreements announced earlier this year with Skype, Microsoft and Yahoo!
New Charging Structure
X-Series customers will be charged flat access fees for X-Series mobile broadband services on top of their basic subscription. The access fees will include all you can Skype, all you can chat by instant text message and all you can search and browse. There will initially be an additional access fee for customers who also take higher-bandwidth services like Sling and Orb. Just like the fixed line internet, all X-Series services will be free at the point of use, subject only to fair usage limits.
The X-Series will lay the foundations for the mobile broadband charging models of the future. The broadband internet is based on a completely different economic model than that of most mobile operators today. As internet and media technologies have evolved, customers are able to do more at less cost. Customers in the future will be attracted by greater and greater choice, and higher and higher usage levels, for fair, attractive and transparent access fees.
This charging structure overturns the traditional telephony model of charging per minute, per message, per click, per event and per megabyte. This is made possible by the rapid development of all IP (internet protocol) mobile networks, HSDPA and HSUPA network speed upgrades, peer-to-peer technologies, and a number of efficiency improvements in every aspect of a mobile operator's business. As a result, the cost of providing broadband internet and media applications in mobility may be expected to continue to decline, as it has in the internet and fixed-line broadband world.
Voice
An X-Series customer will be able to make and receive unlimited Skype calls with Skype PC users anywhere in the world, and to any other Skype 3 mobile customer. Skype to Skype calls on a 3 mobile will be free.*
Niklas Zennström, CEO, Skype, said:
"Over the last three years, Skype has changed the way people communicate with one another. There are 136 million Skype users today who are making free calls to other Skype users across the world. With 3, I am very proud to say that for the first time, our users can now try out making Skype calls on the move using a mobile phone. We always want to delight our users by letting them try out new ways of keeping in touch. This is a real milestone for Skype because now you can use Skype beyond the PC, no matter where you happen to be."
Your TV where you are
An X-Series customer who purchases a Slingbox will be able to watch anything they are able to watch on their own TV, including their terrestrial TV, Freeview, cable, and satellite TV, at the same time, on their mobile. Slingbox will also let X-Series customers control their home personal video recorder (PVR) to watch shows they have recorded, pause and rewind live TV, or even queue a recording when away from home using their mobile.
Blake Krikorian, co-founder and CEO of Sling Media, said:
"Working together with 3 has enabled us to push the boundaries of TV viewing further than ever before. 3 understands the power of mobile broadband to deliver compelling, value-add applications and services like a truly personalized mobile TV experience. We are thrilled to be working with them. The availability of SlingPlayer Mobile for 3 customers is a major breakthrough in mobile TV viewing. Customers can now view all the programmes they love to watch at home whilst on the move via their mobile phone."
Your PC where you are
Using Orb means people can access the digital content that they have stored on their PC at home, including music files, playlists, digital photos and videos, on their X-Series handset. Orb has specifically designed a user interface for X-Series handsets, which will ensure the X-Series customers taking Orb will receive the best user experience.
Joe Costello, Chairman and co-founder of Orb Networks, said:
"3 Group just gets it. They are the first mobile media company to give their customers the freedom and choices to use the mobile Web the way it was intended to be used. Who doesn't want the freedom to control what digital media we enjoy, when we enjoy it and where? That's the type of media freedom Orb provides. 3 is not running away from the future, they are running towards it with open arms, ripping down the wall around the garden and offering up the best Web 2.0 services to their customers."
Messaging
X-Series from 3 will offer customers text instant messages, to or from Windows Live Messenger or Yahoo! Messenger, to another X-Series handset, or a PC. Sending and receiving text instant messages with an X-Series mobile will be free.*
Sharon Baylay, General Manager, Microsoft Online Services Group UK, said:
"We're excited to be bringing one of Microsoft's best of breed communications services to 3's network. Already, in the UK alone, 3 users are having one million Windows Live Messenger conversations every day. These are exciting numbers and mobile broadband will bring a rapid shift in the delivery of internet services, and consumers' usage of them. This announcement shows Microsoft at the forefront of the mobile broadband revolution and we will continue to roll out 'anywhere access' to our leading web services."
Open Internet Access and Search
Customers will be able to search the internet without limitation from their mobile using a GoogleTM or Yahoo search engine, depending on their choice and the search services available in their country. Searching and browsing the internet on mobile will be free.*
Terry Semel CEO of Yahoo said:
"Approximately three billion people in the world today are using mobile devices, and to have the ability to connect to those three billion, with broadband capabilities, and allow them to take advantage of Yahoo! services on the go is a huge opportunity for both our company and for 3."
Dominique Vidal, Regional Vice President & Managing Director of Yahoo! Europe, said:
"As the number of consumers accessing the Internet on their mobile devices continues to grow, creating and partnering to deliver innovative mobile communications services, personalized content and an intuitive search experience is a key component to Yahoo!'s future success. With the launch of broadband mobile Internet, 3 Group and Yahoo! can now deliver the rich and personalized Internet experiences that consumers want on the go."
Jim Holden, Director Wireless Strategic Partnerships, Google, said:
"We want people to be able to find useful information on the internet wherever they are. 3 share this goal. Mobile search offers people the chance of a rich internet experience on the go. Our agreement takes us a step further to meeting this ambition."
The best Internet shopping with eBay
X-Series customers will be able to shop on eBay real-time. Searching and browsing and bidding will be free. This will give eBay users with access to 3 the ability to enjoy enhanced opportunities to buy and sell on the go and not just in front of their PCs. With 3 and X-Series, eBay sellers and buyers will be able to stay connected to one another when and where they want.
Cutting Edge Handsets
The global launch of the X-Series from 3 is being made possible by the first two handsets that will support this full range of services: the Nokia N73 and the Sony Ericsson W950i.
Kai Öistämö, Executive Vice President and General Manager, Mobile Phones, Nokia, said:
"We are firm believers that mobile convergence is the future of mobility. With its wide array of features, the Nokia N73 multimedia computer is simply ideal for this kind of innovative service. The X-Series from 3 will be a great way for consumers to take full advantage of the devices' great features. We are proud to take part in the X-Series and we are most confident that our customers will greatly benefit from this mobile broadband service."
Miles Flint, President, Sony Ericsson said:
"Today's sophisticated consumers want complex services at their fingertips and our devices are the physical touch-point between Internet services and the consumer. But consumers don't just want a functional device, they want something highly individual. That's what the W950i Walkman phone brings to the X-Series."
- Ends -
* Subject to international roaming limitations and fair use restrictions.
Webcast of media event
A webcast of the media conference announcing the global launch of the X-Series from 3 will be live from 10:55am GMT on 16th November 2006 and can be viewed at: http://xseries.three.com/webcast
Cantos Interview
Interviews with Canning Fok, Group Managing Director of Hutchison Whampoa Limited, Frank Sixt, Group Finance Director of Hutchison Whampoa Limited, Niklas Zennström, CEO, Skype and Kai Öistämö, Executive Vice President and General Manager, Mobile Phones, Nokia, can be viewed at www.cantos.com
3 Group
A division of Hutchison Whampoa, the 3 Group together with Hutchison Telecommunications International Limited, is the leading global player in the 3G arena, holding licences in 11 markets with total population coverage of approximately 175 million.
In just three years, the 3 Group has built an entirely new mobile broadband network, achieving probably the fastest rollout of a radio network in the entire telecom industry. Marketed globally under the 3 brand, the 3 Group was the first operator in the world to provide dual-mode 3G services.
To date, commercial 3G services have been launched in Italy, the UK, Australia, Austria, Sweden, Denmark, Hong Kong, Israel and Ireland. Hutchison announced more than 13.5 million customers in August 2006.
For more information about 3, please visit www.three.com
For more information on the X-Series from 3 please visit http://xseries.three.com
About Hutchison Whampoa Limited
Hutchison Whampoa Limited (HWL) is a leading international corporation committed to innovation and technology with businesses spanning the globe. Its diverse array of holdings range from some of the world's biggest port operators and retailers to property development and infrastructure to the most technologically-advanced and marketing-savvy telecommunications operators. HWL reports turnover of approximately HKD242 billion (USD31 billion) and HKD 124 billion (USD16 billion) for the year ended 31 December 2005 and for the unaudited results for the six months ended 30 June 2006 respectively. With operations in 55 countries and over 220,000 employees worldwide, Hutchison has five core businesses - ports and related services; property and hotels; retail; energy, infrastructure, investments and others; and telecommunications.
Its flagship companies include Hutchison Port Holdings, Hutchison Whampoa Properties, A.S. Watson, Cheung Kong Infrastructure and Hutchison Telecom.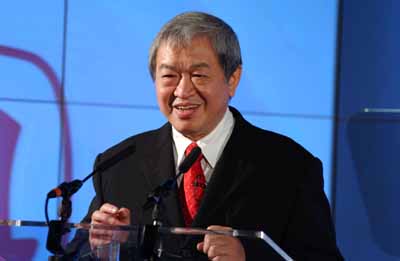 Download (162 KB)
Hutchison Whampoa announces the global launch of the X-Series from 3, Group Managing Director Canning Fok talks about the strategy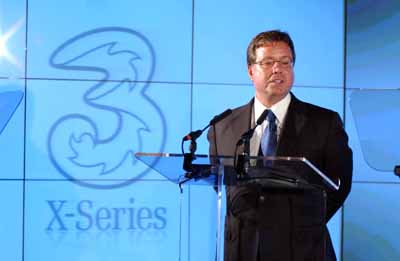 Download (167 KB)
Hutchison Whampoa announces the global launch of the X-Series from 3, Group Finance Director Frank Sixt discusses X-Series business model.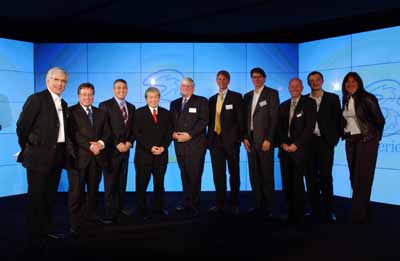 Download (191 KB)
Hutchison Whampoa announces the global launch of the X-Series from 3, Group Managing Director Canning Fok (4th left) and Group Finance Director Frank Sixt (2nd left) join all the partners in the UK to celebrate the launch.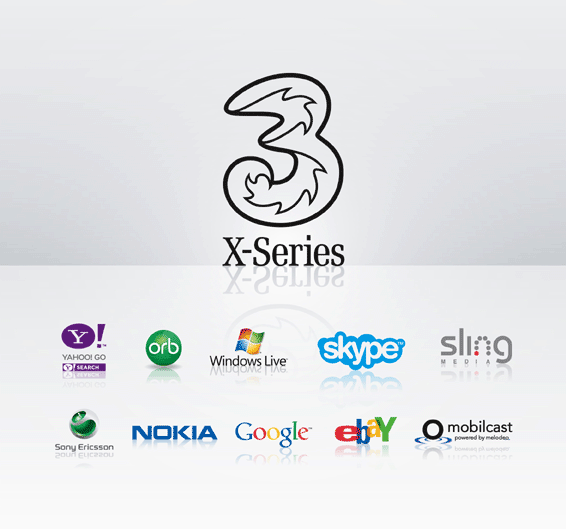 Download (575 KB)
3 X-Series and partners
For media enquiries, please contact: