Press Releases
For photo, please click here.
Hong Kong entrepreneur and business leader Li Ka-Shing makes S$100 million gift to the Lee Kuan Yew school of public policy at NUS
Singapore and Hong Kong, 8 March 2007 - The Lee Kuan Yew School of Public Policy (LKYSPP) at the National University of Singapore (NUS) is pleased to announce that it has received a S$100 million gift from the Li Ka Shing Foundation and Dr Li Ka-shing's group of companies, Cheung Kong (Holdings) Limited and Hutchison Whampoa Limited. The S$100 million gift will be matched with a dollar-for-dollar matching grant from the Singapore Government. The two contributions will be combined together to create an endowment fund to support academic activities.
Professor Kishore Mahbubani, Dean of LKYSPP said: "We deeply appreciate this generous contribution by Dr Li. One key goal of the Lee Kuan Yew School of Public Policy is to train the next generation of policy makers and leaders who will help raise standards of governance and improve the lives of ordinary people in the region." He added: "By allowing the School to offer more scholarships, Dr Li's gift will help us fulfill one of our key missions of attracting promising young policy makers from Asia to study public policy. The region needs to develop strong public sector institutions to keep pace with its economic growth. Over the longer term this will benefit not only Asia but the whole world. In this context, Dr Li's gift is an important contribution not just to our School but also to Asia and the world."
NUS President Professor Shih Choon Fong said: "We are deeply grateful to Dr Li Ka-shing for his generosity and confidence in NUS' Lee Kuan Yew School of Public Policy. Higher education in Singapore has benefited greatly from the support and munificence of visionary philanthropists. Dr Li's transformational gift will enable the Lee Kuan Yew School of Public Policy to strive for new heights of excellence, and help NUS extend its reach and impact as a global university of distinction."
The gift by the Li Ka Shing Foundation (50%), Cheung Kong (Holdings) Limited (25%) and Hutchison Whampoa Limited (25%) will be used to create an endowment fund to support academic activities including the endowment of chair professorships and the setting up of more than 40 scholarships annually. These scholarships will continue in perpetuity and over time create a distinguished alumni of policy makers in the region. The scholarships offered by the School will benefit students from Mainland China, Hong Kong, India, Vietnam and other Southeast Asian countries and regions, as well as local students in Singapore, Professor Mahbubani added.
To honour and recognise Dr Li's support and generosity, LKYSPP will name one of its three buildings at the historic Bukit Timah Campus after him. The building - which sits on a rise overlooking the Botanic Gardens valley - houses the school's executive education programmes and the largest concentration of its faculty and researchers.
Dr Li Ka-shing said: "Globalisation posts new complexities for governments worldwide. Policy makers everywhere need to develop policies that embrace the importance of diversity and integrate it within a structure of unity. This is certainly an important task and a formidable challenge. By bringing together policy makers from different countries to think about these issues together, I hope the scholarships might sow seeds of perpetual prosperity and peace."
Minister Mentor Lee said: "Dr Li Ka-shing and I are old friends. By his generous donation of S$100 million to the LKYSPP, I am happy that his name will be on one of the three blocks of buildings on the campus of the school that is named after me."
###
Photo caption: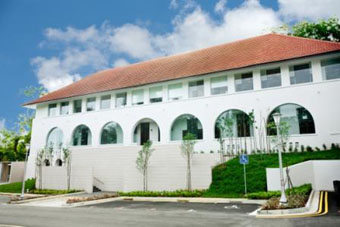 Download (1,964 KB)
The Lee Kuan Yew School of Public Policy will name a building at the historic Bukit Timah Campus as "Li Ka Shing Building" to honour and recognise Dr Li Ka-shing's support and generosity.
About Li Ka Shing Foundation
Dr Li Ka-shing is Chairman of both Cheung Kong (Holdings) Limited and Hutchison Whampoa Limited. The Li Ka Shing Foundation was established in 1980 to nurture a culture of giving. Dr Li believes that this can be accomplished by focusing on capacity empowerment through education and the building of a caring society through medical and healthcare projects. The Li Ka Shing Foundation and other private charitable foundations established by Dr Li have supported numerous philanthropic activities with grants, sponsorships, and commitments of HK$8.3 billion.
For further information, please visit: www.lksf.org
About the Lee Kuan Yew School of Public Policy
The Lee Kuan Yew School of Public Policy is an autonomous, professional graduate school of the National University of Singapore.
Its mission is to help educate and train the next generation of Asian policy makers and leaders, with the objective of raising the standards of governance throughout the region, improving the lives of its people and, in so doing, contribute to the transformation of Asia.
In addition to being one of the fastest-growing public policy schools in the world, it has one of the most diverse student bodies and faculty.
It also pursues an ambitious research agenda aimed at furthering the understanding of the key challenges faced by contemporary societies in dealing with a rapidly changing world. As Minister Mentor Lee said at the conference marking the official opening of the School:
"This School is the venue for scholars, officials and students from the world over, especially from China and India, to gather, research and exchange ideas on how societies are best governed in a globalising world. All participants will benefit from a rigorous study of policies that have succeeded and those that failed."
Although the school was formally launched in 2004, it has inherited a rich legacy left by its predecessor Public Policy Programme, which was set up in 1992 and developed in partnership with the John F Kennedy School of Government of Harvard University. To this day the school continues to maintain a strong partnership with the Kennedy School. For more details on the LKYSPP, please visit www.lkyspp.nus.edu.sg
About Bukit Timah Campus
The Bukit Timah Campus (BTC) was officially turned over to NUS in May 2005. It currently houses the LKYSPP, the Faculty of Law, the East Asian Institute, the Institute of South Asian Studies and the Asian Research Institute.
BTC has a long and distinguished academic history. Built in the 1920s on a piece of land donated by the Straits Settlement Government, BTC was the campus ground for Raffles College, a college for higher education in arts and sciences. The original design was by Cyril A Farey and Graham D Dawbam of London and it was the winning design of a British empire-wide architectural competition in 1922.
Apart from the building that is to be named after Dr Li Ka-shing, the School also occupies the Oei Tiong Ham and Manasseh Meyer buildings. Both buildings were named after two of the largest donors who contributed towards the construction of Raffles College during the 1920s. These historic buildings at BTC are architectural gems of that period.
About National University of Singapore
The National University of Singapore (NUS) is a multi-campus university of global standing, with distinctive strengths in education and research and an entrepreneurial dimension. A growing university, NUS now spans three locations - its principal 150-hectare Kent Ridge campus, Bukit Timah campus and Duke-NUS Graduate Medical School Singapore. It has an enrolment of 22,000 undergraduate and more than 6,000 graduate students from 80 countries.
NUS offers a broad-based curriculum underscored by multi-disciplinary courses and cross-faculty enrichment. There are 13 faculties offering courses from architecture to medicine to music. A special feature of NUS education is the global dimension of its courses in partnership with some of the world's best institutions. NUS also enjoys a close teaching-research association with 14 national-level, 11 university-level and 80 faculty-based research institutes and centres. Research activities are strategic and robust, and a 'no walls' collaborative culture forms the bedrock of NUS' research-intensive vibrancy. A spirit of entrepreneurship and innovation promotes creative enterprise university-wide. This is aided by a venture support eco-system that helps students, staff and alumni nurture the development of start-ups into regional and global companies.
NUS plays an active role in international academic networks such as the International Alliance of Research Universities (IARU) and Association of Pacific Rim Universities (APRU). It is ranked amongst the best universities in the world, and is well-regarded for disciplines such as Technology, Biomedicine and the Social Sciences.
For more information, please visit: www.nus.edu.sg
For media enquiries, please contact:
Li Ka Shing Foundation
Mr Jeremy Lau
Email - Jeremyl@hwl.com.hk
Phone - (852) 2128.1207
Fax - (852) 2128.1766
NUS
Mr Chew Kheng Chuan
Vice-President
Endowment & Institutional Development
Email - kc.chew@nus.edu.sg
Phone - (65) 6516.1085
Fax - (65) 6464.1474
LKYSPP
COL (NS) Sukhvinder Singh Chopra
Director, Administration
Email - sppssc@nus.edu.sg
Phone - (65) 6516.4846
Fax - (65) 6778.1020