Press Releases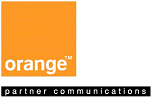 Partner Communications announces bonds rating "AA-" with a stable outlook awarded by Maalot
Rosh Ha'ayin, Israel, 20 March 2007 - Partner Communications Company Ltd. (NASDAQ, Tel Aviv: PTNR, London: PCCD), a leading Israeli mobile communications operator, announces that Maalot, The Israel Securities Rating Company Ltd., strategic partner of Standard & Poor's, has awarded Partner's bonds an "AA-" rating with a stable outlook.
According to Maalot: "Partner's rating is primarily based on the following factors: branding of the Company as a technology and service leader; the highest ARPU; the ability to maintain in recent years a stable market share of 32%; the highest number of 3G cellular subscribers in the market; the superb management quality; and high financial positioning, reflected in the level of cash flow and in high profitability. These positive factors are partially offset by the high regulatory level in the market and by the exposure of the market to claims of damage to the environment."
About Partner Communications
Partner Communications Company Ltd. (Partner) is a leading Israeli mobile communications operator providing GSM / GPRS / UMTS / HSDPA services and wire free applications under the orangeTM brand. The Company commenced full commercial operations in January 1999 and, through its network, provides quality service and a range of features to 2.668 million subscribers in Israel. The Company launched its 3G service in 2004. Partner's ADSs are quoted on The NASDAQ Global Select MarketTM and on the Tel Aviv Stock Exchange under the symbol PTNR. The shares are also traded on the London Stock Exchange under the symbol PCCD.
Partner is a subsidiary of Hutchison Telecommunications International Limited (Hutchison Telecom). Hutchison Telecom is a leading listed telecommunications operator (SEHK: 2332; NYSE: HTX) focusing on dynamic markets. It currently offers mobile and fixed-line telecommunication services in Hong Kong, and operates or is rolling out mobile telecommunication services in India, Israel, Macau, Thailand, Sri Lanka, Ghana, Indonesia and Vietnam.
For more information about Partner, see www.investors.partner.co.il
Contacts:
| | |
| --- | --- |
| Mr. Emanuel Avner | Dr. Dan Eldar |
| Chief Financial Officer | V.P. Carrier, Investor and International Relations |
| Tel: +972-54-7814951 | Tel: +972-54-7814151 |
| Fax: +972-54-7815961 | Fax: +972-54 -7814161 |
| E-mail: emanuel.avner@orange.co.il | E-mail: dan.eldar@orange.co.il |