Press Releases
For photos, please click here.
For speech, please click here.

Shantou University kicks start a Green Movement
Nobel laureate Steven Chu endorses STU's Green Campus Campaign
(Shantou and Hong Kong, 6 July 2007) Shantou University ("STU") today announced the launch of its Green Campus Campaign, pioneering a combination of eco-system and academic concept to sustainable development in Mainland China's education sector.
This Shantou green movement, revealed at the University's 2007 Commencement Ceremony, is jointly supported by Professor Steven Chu, Nobel Prize laureate in Physics, Director of Lawrence Berkeley National Laboratory, Professor of Physics and Professor of Molecular and Cellular Biology at the University of Berkeley and Mr Liu Youbin, Deputy Director General, Department of Education and Communications, State Environmental Protection Administration of China.
Since 2003 STU has embraced many university-wide eco-friendly projects to raise environmental awareness amongst faculties and students. In 2003, Herzog & de Meuron new master plan for STU focused on a Central Green belt, to date STU campus has been named as one of the "New Eight Scenic Spots in Shantou" and an "Advanced green unit in the city of Shantou". For its new phase of expansion, STU has invited world-renowned artist-architect Herzog & de Meuron and Chinese American Maya Lin to augment further upon this conservation theme. In addition to core environmental conscious structural designs, STU's eco-campus policies also encouraged "greening" through the planting of trees covering 75 per cent of the entire campus approximately 805,000 square metres.
In 2005, following a rigourous administrative practice reform programme, STU received certification of the international standard ISO 14001 for its environment management systems. The University has successfully reduced water consumption by 42 per cent and will further tackle air pollution through the installation of gas system, solar energy and energy efficient bulb etc.
Professor Chu addressed his great concern of the increasing energy consumption challenge and global climate change in his speech at the University's Commencement Ceremony. He said, "I believe energy problem is the single most important problem that science and technology must solve in the coming decades.
"This is a world problem, and all nations must join forces to solve it.
"China must focus on both economic development and decreasing local and global pollution. These two goals are not in conflict, especially when it comes to increasing energy efficiency. If one takes a more macro-economic point of view, controlling local and global pollution becomes the low cost option."
Professor Chu was excited to see STU taking the initiative towards environmentally friendly policies because environmental education is the most effective long-term solution for tackling this global problem.
During his visit to STU, Professor Chu met many students and faculty members and shared his experiences and insights towards building a sustainable future.
Speaking at the Commencement Ceremony, the Honorary Chairman of the STU Council Mr Li Ka-shing said, "If you truly love your community, your people, the world and love life, you must be motivated to participate and lead with your beliefs and your commitments without fear."
Over the past several years, STU has been a proponent of sustainable development through education, research and practical applications. Among the University's commitments are:
1. University-wide elective courses for all students on sustainable development;
2. Institutional practices to conserve energy and resources, increase efficiencies, use renewable energy, reduce waste and hazardous materials and provide a healthy working environment for staff and students;
3. Sustainability requirement reviews for all campus infrastructure and new building projects including major renovations;
4. Annual funding to support education initiatives and campus best practices in energy, resources, water conservation and environmental protection; and
5. Annual sustainable actions audit and improvement planning.
STU hopes that through the Green Campus Campaign, more universities, institutions, and the general public will be more pro-active in eco-friendly practices, conserving resources, and building towards a healthy, sustainable environment.
# # #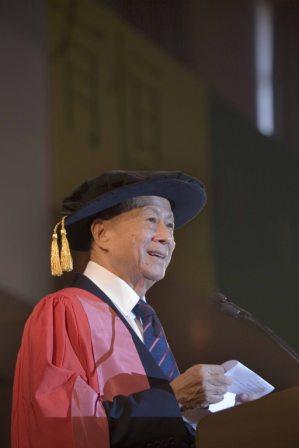 Download (831 KB)
1. Delivering his speech titled "Your Wonderful Life" at the Shantou University Commencement Ceremony today, Honorary Chairman of the STU Council Mr Li Ka-shing encourages the graduates to be dreamers while living steadfastly to the realisation of their dreams.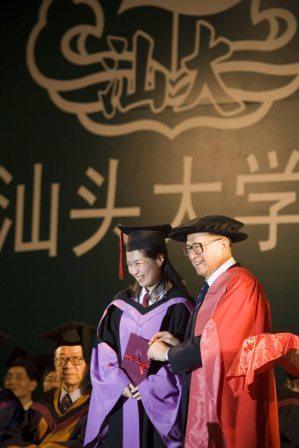 Download (1,257 KB)
2. Mr Li Ka-shing confers a doctoral degree to one of the graduates at the STU Commencement Ceremony today.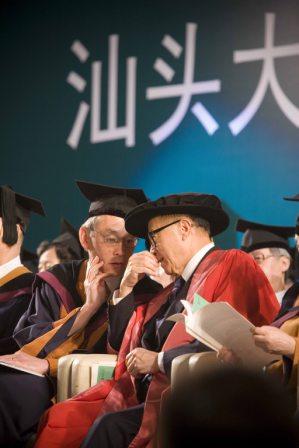 Download (1,024 KB)
3. Mr Li Ka-shing shares a relaxing conversation with Nobel Prize Laureate Professor Steven Chu.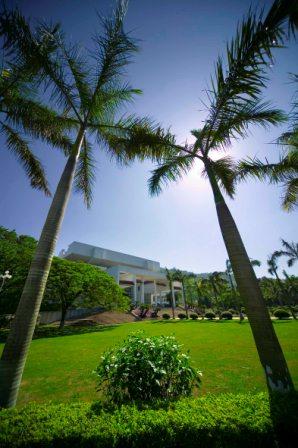 Download (406 KB)
4. STU's eco-campus policies encourage "greening" through the planting of trees covering 75 per cent of the entire campus.
Speech delivered by Mr Li Ka-shing
2007 Shantou University Commencement Ceremony
6 July 2007
Your Wonderful Life
Mr President, distinguished faculty and administrators, parents, friends and graduates, first and foremost - on behalf of the board of trustees, I extend our hearty congratulations to the class of 2007. What a grand accomplishment. What a special day. Along with your beloved and proud parents we wish each of you a life of happiness, a life of fulfillment, a life of health and flourishing opportunities.
Happiness, because you use your power of reasoning to live life with an unclouded mind; fulfilled because the skills you acquire empower you to achieve your dreams; healthy because you know what to treasure and never take things for granted; flourishing because you understand the difference between right and wrong and know how to meet challenges with courage and setbacks with dignity.
Here at Shantou you have built a firm foundation for a fulfilling life. What you have accomplished is a tribute to your efforts, to the sacrifices of your family, and to the faculty and staff of this fine university. No success is achieved alone. It is the confluence of tributaries that makes the mighty river.
For the past few years, the reforms we undertook have yielded impressive results, and I laud the achievements that have been made here. Not only have we earned distinguished recognition in the Ministry of Education's evaluation and accreditation, but the employment rate of our graduates and the enrollment into our medical school continue to be number one in Guangdong province and beyond. This year we earned another distinction: our university achieved the second highest position in the nation-wide English assessment test. More importantly, the reforms were undertaken to empower you! Implementation of the credit system provided greater choices for your future, and pedagogy reforms to support your self-discovery, your pursuit of excellence to what is meaningful to you.
All of these achievements have been made on your behalf, so please join me now in giving the faculty and staff of Shantou University a warm hand of gratitude for their unwavering dedication and these magnificent results.
Yes, everything is for you, but my hope is that if you have learned one thing at Shantou it is that the world is not just about you and me.
Yes it is important to build a rosy future for you and your family, but there is a huge difference between being a high achiever and a true success.
True success is more than the skills we have learned. It is more than technique, credentials, networking and experiences. True success is the ever-growing manifestation of your willing and unique spirit, where your perspectives, your values and principles create a multi-dimensional life - life for one-dimensional people could be so narrow and so skewed, despairingly dominated by single-minded pursuits of wealth and power. But for men and women who have serious purposes in life, who have commitment, care, attitude and dedication, life for them could be a never-ending colorful and wonderful story.
You have to be a dreamer, but live your life steadfastly to the realisation of your dreams. Test and strengthen them through the crucible of hard facts and actual experience. Let me share with you this, let your aspirations be your guiding light, and live a life of clarity. If you live a reflective and examined life you can sail through life with ease and vitality. If you stay faithful to your maxims you will have the resolve to withstand all that is complex and varied and still manage to stay on the path that is right.
To truly love your community, your people, the world and love life, you must be motivated to participate and lead with your beliefs and your commitments without fear. Our traditional wisdom is a treasure trove, if you can master what is in the saying "a well-defined plan facilitates success, distinguishing division reaps progress, to be speedy yet unhurried, to rule and to set free" life could be so good. My dear graduates, go live a colorful and wonderful life and make this world a great place.
Thank you.
---
For media enquiries, please contact:
Li Ka Shing Foundation
Ms Laura Cheung
Tel: (852) 2128 1289
Fax: (852) 2128 1766
Email: laurac@hwl.com.hk
Mr Jeremy Lau
Tel: (852) 2128 1207
Fax: (852) 2128 1766
Email: jeremyl@hwl.com.hk