Press Releases

Press Release
Rome - 17 July 2007
3 Italia presents HSUPA technology: Mobile broadband becomes "democratic".
At the presence of the Minister of Communications, Paolo Gentiloni, and in collaboration with Ericsson, 3 Italia presents the technology that allows a data transfer uplink speed up to 1.4 Mbps.
3 Italia, Mobile Media Company leader of UMTS in Europe, with more than 7.2 million clients, presented today to media and to Minister of Communications, Paolo Gentiloni, HSUPA technology: the evolution of UMTS 3G network, for data transfer with up-link speed up to 1.4 Mbps. This technology joins HSDPA that grants a downlink speed up to 7.2 Mbps, and that is currently being implemented by 3 Italia in Milan, Rome, Turin, Naples, Catania, Bologna, Bergamo, and in the main national airports.
A further confirmation that 3 Italia is at the cutting-edge as concerns the development of 3G mobile telephony, thanks to the presentation of HSUPA (High Speed Uplink Packet Access) that today, at Casa Del Jazz, in Rome, allowed to reach upload speeds up to 1.4 Mbps on 3's commercial network realised by Ericsson, worldwide leading company supplying telecommunication services.
Thanks to HSUPA technology, mobile Broad Band becomes "democratic" for its flexibility to Web 2.0 evolution, thus reducing any asymmetry between the download procedures, for example from a news or info site, and the upload process necessary for the user to publish contents on the same site. As a matter of fact, HSUPA allows to send a 3 minutes video made by videophone, in only 1,7 minutes, with respect to 37 minutes required by an UMTS last generation handsets, and more than 75 minutes for a last generation GPRS phone.
During the today's "live" demo to Minister Gentiloni, multimedia contents, acquired during the event, have been published on the Web and broadcasted on DVB-H TV phones, using the typical approach of "Citizen Journalism", new frontier of the communication, where citizens are playing an active role collecting, recording, analyzing and spreading news and information.
Thanks to HSUPA technology upload speed, a 15 MB file containing the interview with Minister Gentiloni, realized with a simple videophone® has been sent to YouTube site in just one and a half minute, with respect to 50 minutes due for a GPRS connection. And always thanks to HSUPA technology, the interview of the Minister given to a 3jay from La3 Live - the channel self produced by 3 Italia for its TVphones - has been also sent to the studios of 3's Digital Mobile TV in via Mambretti, Milan and than broadcasted on DVBH TVphones two minutes later its realization at the Casa del Jazz in Rome.
Cesare Avenia, Ericsson CEO, highlighted that" I am proud to participate today, together with 3 Italia, to the HSUPA presentation. This is a new occasion for Ericsson to witness the unquestioned leadership in a dynamic and fast-growing market as the broadband one. Ericsson has provided 57 networks out of the 118 HSPA network live in the world. Broadband is now a reality that allows customers to access internet browsing, videoconference and mobile data exchange with always better quality".
Vincenzo Novari, CEO of 3 Italia declared: "3 Italia with HSUPA presentation maintains its leadership in innovation and promotion of mobile broad band development in Italy. The increase in performances of our network are parallel with the boom recorded by the data traffic, four-folded in less than 6 months, to get to about 3 Terabyte transferred in a day. The recent launch of X-Series moves toward the same direction. X-Series is the service bringing the best of internet in mobile and that already can boast about half a million 3's customer using the WWW3 browser to surf the net with the Videophone, with a million researches on Google mobile, every day".

3 Italia - It is the Mobile Media Company controlled by the Hutchison Whampoa Group shareholder of 95,4%. Its other shareholders are: NHS Investments S.A (San Paolo IMI, Gemina and 3G Mobile Investments (Franco Bernabe Group). 3 Italia won a UMTS license in Italy in 2000, commenced offering of its services in 2003 and is now the leader of the UMTS market in Italy - with over 7,2 million customers on March 2007 - thanks to a wide offer of multimedia, video communication and internet services, besides entertainment, music, information, cinema, sport and Mobile Digital TV (DVB-H).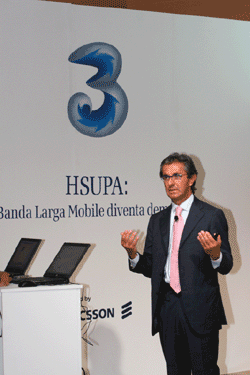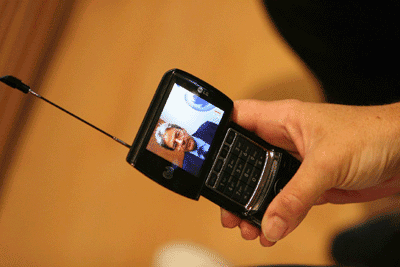 3 Italia Contacts:
Gian Marco Litrico
External and Media Relations Director
Tel. +39 02 44581
gianmarco.litrico@h3g.it