Press Releases

Press Release
Extending from Australia to Canada - CKI invests in Canadian
hydrogen fuelling company, Stuart Energy
August 22, 2000 - Hong Kong - Cheung Kong Infrastructure (Holdings) Ltd (CKI) has invested C$16.3 million (approximately HK$86 million) to acquire an 18% stake in Canadian hydrogen fuelling company, Stuart Energy Systems Corporation (Stuart). This is the second international investment made by CKI in August following the acquisition of Powercor in Australia, and the second Canadian investment this year subsequent to its investment in Polyphalt.
Stuart is a leading developer and provider of generating systems that produce hydrogen at the pressure and purity required for use as a transportation fuel. With its advanced technology, Stuart has mastered the challenge of converting hydrogen into a fuel that is both cost-efficient and easy to transmit. This is a major breakthrough in the field of science as hydrogen has always been a very valuable source of fuel. To capture the market which is expected to grow exponentially arising from regulatory requirements in the US for introducing zero emission vehicles, the company has demonstrated usage of Vehicle Fuel Appliances for hydrogen cars and buses. Hydrogen fuel can also used for home appliances such as heaters and cooking stoves, and in marine propulsion and regenerative power systems.
Stuart is filing for an IPO and intends to file an amendment to its preliminary prospectus which provides additional details of the relationship between CKI and Stuart. Stuart's IPO roadshow activities will commence at the end of the month, and the company will be introduced to the Hong Kong investment community in the beginning of September. CKI's investment in Stuart has made CKI one of the three cornerstone shareholders of Stuart together with the founding Stuart Family Trust and Samuel C. Johnson Trusts.
"We are very excited about this opportunity to participate in the pre-IPO stage of a company as promising as Stuart. With environmental protection becoming a global trend, clean and cost-efficient fuel will be the key to future technology growth. CKI sees great potential in the hydrogen fuel business. With Stuart's extensive experience in the hydrogen business and its hi-tech capabilities, we are confident that the company will quickly become a leading supplier of hydrogen fuel appliances and fuel services in a vast range of fuel-driven industries," said Mr H L Kam, Group Managing Director of CKI.
In addition to acquiring an equity stake in Stuart, which aims to market hydrogen fuel to all fuel-driven industries on a worldwide basis, CKI has obtained exclusive rights to Stuart's technology and products in Asia Pacific. This exclusivity was licenced to CKI by a joint venture company formed by Stuart and CKI (Stuart: 60% shareholding; and CKI: 40%) whose mission is to develop the hydrogen fuelling business in Asia Pacific.
This joint venture presents CKI with the opportunity to develop, distribute and market its second technology product in the Asia Pacific region; the first being the "eSmart" smart card technology.
"The growth prospects for hydrogen-based fuel in Asia Pacific are very exciting. As governments in the region become more and more concerned about environmental protection issues, and citizens become increasingly aware of environmental problems, a thriving market for environmentally friendly products is bound to emerge. The hydrogen solution, which offers a cleaner and more reasonably cost alternative to existing commonly used fuel forms, caters to the imminent environmental needs of any fuel-driven industry, including transport, marine, as well as heating and cooking in homes. We at CKI are very excited about our development plans for this high growth potential market," commented Mr Barrie Cook, Executive Director of CKI and Convenor of the Hong Kong Business Coalition on the Environment.
"Stuart is very happy to have CKI, one of Asia's largest infrastructure companies, become one of its major shareholders. CKI's extensive experience in facilities infrastructure and its in-depth knowledge of the Asia Pacific markets will be great assets to the company. Leveraging on both companies' strengths and expertise, we have every confidence that Stuart will be at the forefront of the global hydrogen fuel industry," said Mr Andrew T B Stuart, President and Chief Executive Officer of Stuart.
The agreement is yet another milestone achievement of CKI both in terms of globalisation and diversification. Within the span of one year, CKI has emerged from a regional infrastructure company to a global infrastructure company with the Group now participating in three Australian energy companies, two Canadian environmentally friendly industries, and running two Asia Pacific-wide technology product operations. The Stuart investment is a great stride for CKI in the environmental industry and gives the company much room to participate in this arena in a meaningful way regionally and internationally.
"The Cheung Kong Group has always been active in taking environmental initiatives. CKI's investment in hydrogen fuel is but the latest of many exciting environmental projects being developed in the pipeline," Mr Kam concluded.
CKI is a constituent stock of the Hang Seng Index. In terms of market capitalization (approximately HK$30 billion or C$5.7 billion as at August 21, 2000), CKI is the largest publicly listed infrastructure company in Hong Kong. The company has investments in Hong Kong, Mainland China, the Philippines, Canada and Australia. More information on CKI is available on the company's website: www.cki.com.hk.
Stuart is a leading developer and supplier of hydrogen generation and supply systems. The systems incorporate proprietary water electrolysis technology designed to serve the emerging hydrogen fuel market for transportation and regenerative power application. The company's website is: www.stuartenergy.com
End
---
Chart Depicting CKI and Stuart's Cooperation
Stuart's Three Cornerstone Investors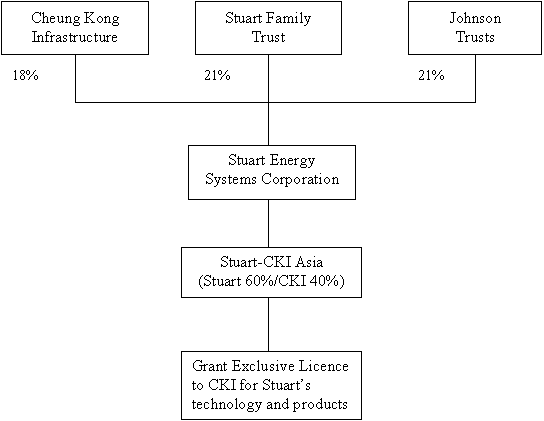 August 22, 2000