Press Releases

For photos, please click here.
CK Hutchison reaches agreement to acquire
100% ownership of Wind Tre
Wind Tre, Italy's leading mobile operator, will become 100% subsidiary of CK Hutchison
CK Hutchison to acquire remaining 50% stake from VEON for EUR 2.45 billion
Transaction will be immediately and strongly accretive to both earnings and cash flow per share for CK Hutchison

(3 July 2018, Hong Kong) - CK Hutchison Holdings Limited ("CK Hutchison" or "CKHH") today announced it has reached an agreement to acquire VEON's 50% stake in Wind Tre.

The transaction will make CK Hutchison the sole owner of a leading mobile telecommunications operator in an attractive market. This is a key step in consolidating an important part of CK Hutchison's telecom assets, which are being built into a globally relevant platform for the delivery of next generation products and services.

Building on the successful merger of Wind with Tre in 2016, this EUR 2.45 billion total cash price transaction allows CKHH to continue driving synergies from the integration of the combined businesses. It will be immediately and strongly accretive to earnings and free cash flow for CK Hutchison shareholders.

In 2017, ownership of 50% of the Wind Tre business contributed over EUR 1 billion attributable EBITDA and over EUR 800 million attributable EBIT for the CK Hutchison Group. By acquiring 100% of Wind Tre, CK Hutchison will secure strong recurring earnings for the years ahead, materially increasing EPS and representing excellent value for CK Hutchison shareholders.

Commenting on the transaction, Canning Fok, Group Co-Managing Director of CK Hutchison, said:

"We are delighted to become sole owners of Wind Tre, which gives us the strongest possible platform to drive increased and recurring value for our shareholders. Having pioneered mobile technology and digital leadership in Italy for over 15 years, CK Hutchison looks forward to continuing to invest in Italy's digital future, benefitting consumers and businesses across the country."

Completion remains subject to regulatory approval in the EU and Italy. The deal is expected to close in Q3 2018.
###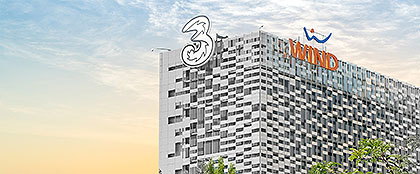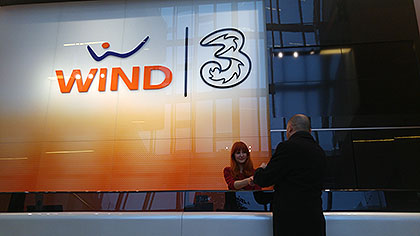 About CK Hutchison Holdings Limited
Listed on The Stock Exchange of Hong Kong Limited, CK Hutchison Holdings Limited (CK Hutchison) is a renowned multinational conglomerate committed to innovation and technology with businesses spanning the globe. With operations in over 50 countries and over 300,000 employees worldwide, CK Hutchison has five core businesses - ports and related services, retail, infrastructure, energy and telecommunications.
CK Hutchison reports turnover of approximately HKD415 billion (USD53 billion) for the year ended 31 December 2017.
For more information, please visit
www.ckh.com.hk