Press Releases
PRESS RELEASE
(For Immediate Release)
New PARKnSHOP Metro City Superstore
3rd generation superstore concept
to reshape food shopping in Hong Kong
(Hong Kong, 6th December 2000) PARKnSHOP, Hong Kong's leading supermarket chain, is today proud to announce the launch of a new concept in food retailing with the opening of its 3rd Generation Superstore at Metro City, Tseung Kwan O.
The Metro City Superstore will be the biggest food store in Hong Kong with an area of 75,000 square feet.
Officiating at the opening ceremony, Mr Ian Wade, Group Managing Director of the A.S. Watson Group said, "Our new Superstore at Metro City represents the 3rd Generation for our Hong Kong Superstores. The first 2 generations - our 'One Stop Shopping' concept launched at Whampoa Garden in 1996 and our 'Best of East & West' concept at Festival Walk in 1998 - have both provided exciting new experiences for Hong Kong's shoppers. He continued, "Now, with our Metro City Superstore we offer our 3rd Generation Superstore - 'The Marketplace'. Within our Marketplace we have created a series of 10 shopping 'Mini-Worlds' each providing the range, atmosphere and expert advice available at a 'stand-alone' specialist store. Together in our Marketplace, the 10 Mini-Worlds create a unique shopping experience that research tells us our customers will love."
Mr Logan Taylor, Chief Executive Officer of the Retail Food Division, A.S. Watson Group said, "PARKnSHOP's past success has been built on listening to and responding to the needs of our customers. Our new Marketplace concept responds to the fact that, in the course of a single day, many customers will go shopping 2 or 3 times, each time with a different purpose in mind. In our Marketplace our customers will always be able to find one or more Mini-Worlds that exactly meet the needs of that particular shopping trip."
The 10 'Mini-Worlds' in the Metro City Superstore will include a huge 'Fresh Market' full of exciting fresh foods sold in an action-packed market-place environment; a 'Fresh Caf

' food court concept with over 200 seats where customers can surf on the internet while choosing from over 100 different menu items; a 'Body Zone' full of world-famous cosmetic brands and incorporating a 'Watsons Pharmacy'; a 'Snack City' section offering huge ranges of pre-packed and loose 'Pick & Mix' sweet and savoury snacks; a 'Homeworld' providing a comprehensive range of kitchen ware and utensils in the 'Cookshop' together with a handy collection of household and DIY items; a 'Baby Care' section with a full range of baby products and a touch-screen kiosk offering helpful baby-care hints; a 'Wine Cellar' with over 1,500 wines from around the world plus an interactive touch-screen kiosk providing a complete wine buyers guide; a 'Grocery Store' with more than 4,500 leading products and a 'Fortress Store with exciting ranges of electrical and white goods all protected by the famous 'Fortress Price Promise'.
Everything a family needs are packed into the 'Marketplace' in the PARKnSHOP Metro City Superstore. This 3rd Generation Superstore genuinely caters 'for all your daily shopping needs'.
- ends -
For Media Enquiry:
Ms Teresa Pang, Public Relations Manager of PARKnSHOP, Media Hotline: 2687 5602.
---
6th December 2000
PARKNSHOP METRO CITY SUPERSTORE FACT SHEET
Opening Date
:
6th December 2000
Location
:
Shop No. UG 36 - 57
Upper Ground Floor
Metro City, Phase II
8 Yan King Road
Tseung Kwan O
Area
:
75,000 square feet - the biggest food store in Hong Kong
Total No. of Products
:
Around 20,000 products from around the world
Designer
:
Fitch of London, a world renowned designer
New Retailing Concept
:
3rd Generation Superstore - 'The Marketplace for all your daily shopping' comprises 10 shopping 'Mini-Worlds'
10 Mini-Worlds: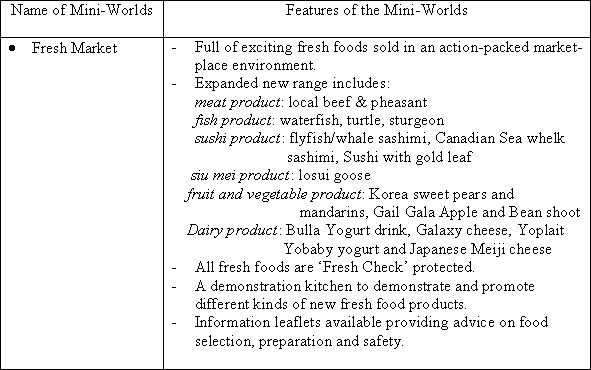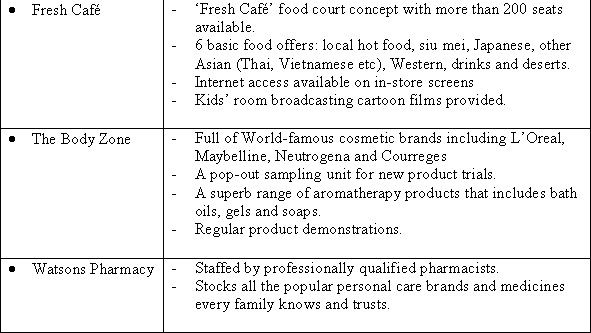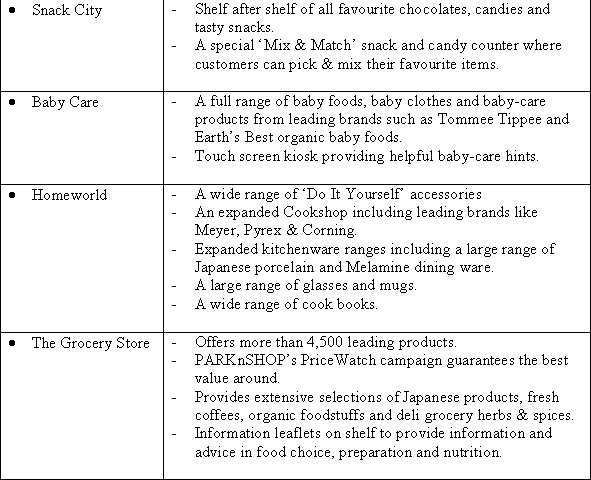 Remarks:

Special Service Outlets:
- Photo Development Shop
- Dry Cleaning Shop
- Chinese Medicine Shop
Customer Service for Family:
- Trolleys with safety baby seats
- A baby care room provided with free diapers, baby lotion, hot and cold tap water
- Customer toilets
- Home delivery service
- Carry to Car service
- Packers
Other Services:
- Customer service desk
- Free parking (1 hour for $250 spend and 2 hours for $500 spend)
- Express checkouts
- In-store facilities for disabled customers
Opening Hours:
7:00 am - 11:00 pm daily
- ends -